The highland city of Bandung is only a short 2.5 hours' drive southeast of Jakarta via a toll road and is the overwhelming destination of choice for Jakarta residents to get away for weekends and long holidays. Lately, it has also become a favorite holiday resort for tourists from Singapore and Malaysia, who come here in droves to shop and enjoy its nature and fabulous foods. And with its popularity, an abundance of hotels have sprouted offering business facilities to luxurious service or also budget rooms, and eateries galore serving yummy local dishes to old-style Dutch cuisine. Meanwhile, the adjacent cool town of Lembang and other scenic areas now also offer a wide variety of attractions and entertainment for the whole family, a haven for Instagrammers.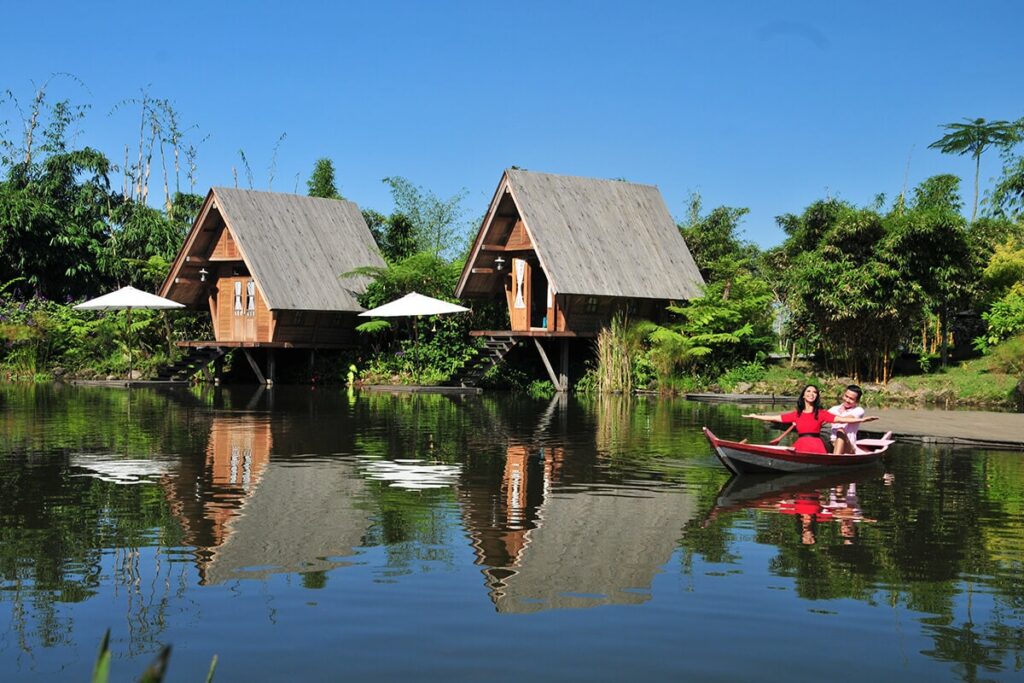 Where Two Continents Meet

Worldwide, Bandung is better known today for its historic Bandung Conference, – otherwise known as the first Asian-African Conference in 1955, that brought together 29 newly independent countries from the two continents representing over half of the world's population. Delegations were headed by legendary leaders that included Jawaharlal Nehru and daughter Indira Gandhi, King Norodom Sihanouk of Cambodia, Gamal Abdel Nasser of Egypt, Prime Minister Zhou En Lai of China and of course Indonesia's own President Soekarno, and many, many more.
But back in Dutch colonial days, at the beginning of the 20th century, Bandung was the favorite resort of wealthy tea and coffee planters owners of swathes of undulating tea and coffee plantations. Bandung was then also dubbed the elegant " Parijs van Java", the Paris of Java. For this reason also, in Central Bandung you can still admire Art Deco buildings of Dutch colonial heritage, which include "Gedung Sate" the Governor's office building; the present Bidakara Homann Hotel, and Gedung Merdeka, venue for the Asian-African Conference with its attached Museum. Reminiscent also of those heydays, some restaurants still serve genuine, sizzling Dutch Beef steaks and Dutch bitterballen, for food-lovers to make a beeline to Bandung.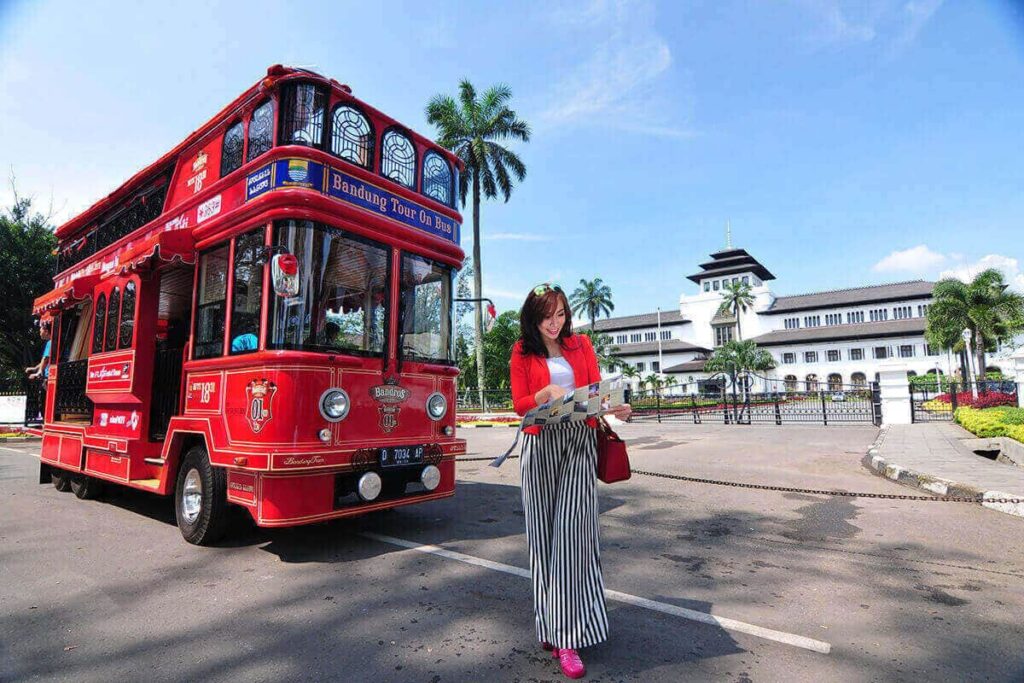 Where Love and Culture Collides

Indeed,"Pasundan (the land of the Sundanese in the West Java province) was created when God was smiling", said MAW Brouwer, renowned Dutch psychologist, and writer who spent most of his life in Bandung. While, Pidi Baiq – Bandung's own multitalented artists and pop culture icon – said: "Bandung is not just a mere spot on the map. More than that, it evokes lasting emotions that remain silently within me". These two quotes are carved right by Bandung's Big Square in the heart of the city and illustrate the irresistible charm that spells: Bandung.
Bandung is also a university city, most prominently known for its Institut Teknologi Bandung (ITB), from where Indonesia's first President Soekarno graduated, and which persistently produces the country's best engineers and scientists until today. Bandung is now also developed to become the Creative City, where millennials and students are encouraged to express their exuberant creativity in art, music and innovative digital creations.
While, for affordable latest fashion trends, the city is second to none. There are factory outlets galore in Distros that dot the main Dago avenue (now called Jalan Ir. H. Juanda), along Jalan Riau (officially known as Jalan R.E. Martadinata), or on the way up to Lembang at Jalan Setiabudi, where cars regularly jam the roads and parking lots. But if you are looking for bales of affordable textiles, then you should go to Pasar Baru Trade Center where you can practice your bargaining skills and get special discounts for buying clothes and materials in bulk.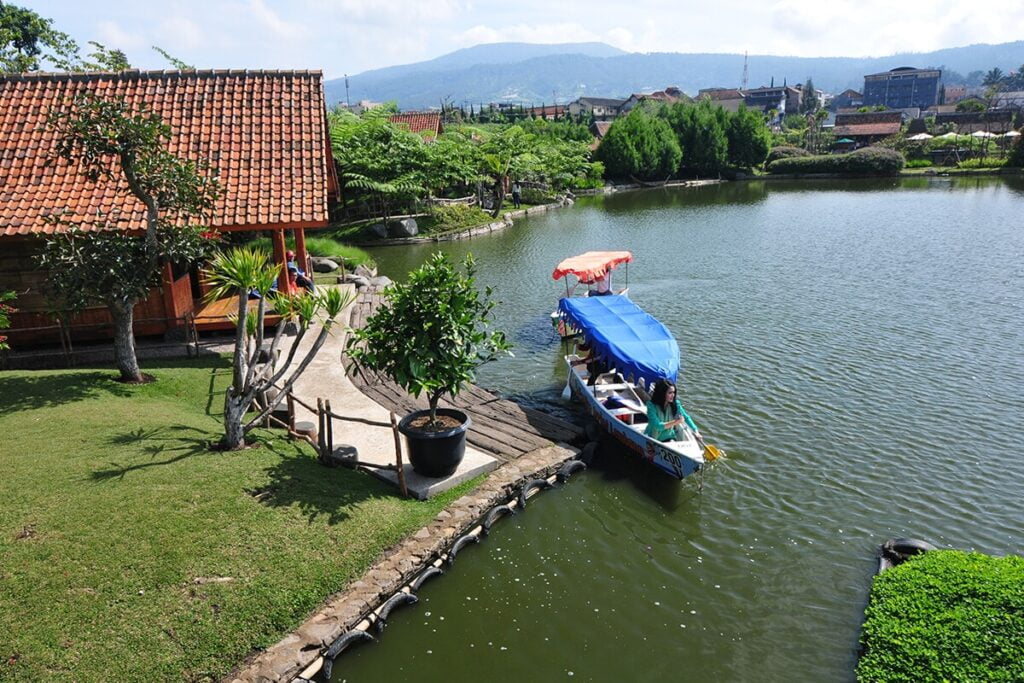 Whereas, for those looking for unique selfie spots, you are in the right city! Those who love nature at its finest should walk up the dramatic hills of Tebing Keraton or The Royal (Palace) Cliff, the peak of Moko Hill, Eurad Highland Lembang, or the Stone Garden Citatah. For special attractions with special features, visit the Farm House at Lembang where you discover a hobbit village and Victorian English towns. At De Ranch Lembang selfies are spot-on in cowboy-style surroundings. Do visit the Rabbit Town which dedicates itself as a 'selfie' tourist attraction offering a range of selfie spots just the thing to send on to friends on Instagram and Youtube. Another attraction is Bandung's Amazing Art World where you can take hundreds of unique photos with 3D effects or get to the Upside Down World, where the world is literally turned upside down for you to take pictures, that are sure to amaze your friends and family. Your experiences here will surely linger on for a long while.
On the other hand, if you wish to get close to the local people, its music, dance, and culture, then Saung Angklung Udjo or Udjo's House of Angklung is one you should not miss. Famed for its Angklung, the local traditional bamboo musical instrument, here you can watch a children orchestra present delightful music shaking the Angklung and perform Sundanese dances and music. Here you may also learn how to play the Angklung yourself and become part of the orchestra.
Lembang: A Mountainous Getaway
Those who prefer an escape from the hives of routines in the metropolitan city can go to Lembang. Just north of Bandung, this area offers mountainous sceneries, instagrammable spots and cool soft breezes.
Nature seekers can go to the Tebing Keraton, an indulging scenic spot as a rock that bulges over the edge of the cliff at its main area – the perfect place to view the golden sunrise or sunset. Tangkuban Perahu Mountain is also a great place to consider for rock climbers! Once you set foot on this majestic glory, you will see the fumes from the inactive mountain. The blissful view from the top of this mountain will leave you astonished.
Lembang can also offer you the best spots for photos and selfies for the whole family. Two of the most popular destinations are Farmhouse Lembang or De'Ranch. Children can enjoy a horse-ride in De'Ranch or the whole family could take countless pictures in the Hobbit House. Both are exception choices for family attractions.
Get Here

Husein Sastranegara International Airport in Bandung is connected to major Indonesian and a number of neighboring countries. Air Asia serves direct flights from Kuala Lumpur in Malaysia as well as Singapore to Bandung. Silk Air also flies Singapore to Bandung and Malindo Air from Kuala Lumpur to Bandung. On domestic flights, Bandung is served by direct flights from Jakarta, Surabaya, Semarang, Bandar Lampung, Bali, Surakarta, Pekanbaru, Banjarmasin, Kualanamu (North Sumatra), Palembang, Pontianak, Yogyakarta, Balikpapan, Batam, Makassar, and Pangkal Pinang. With soon to be operated modern Kertajati International Airport at Majalengka in June 2018, access to Bandung and its beautiful surroundings will become a whole lot faster and much more convenient.
From the capital city of Jakarta, Bandung is also accessible via a toll road that allows you to reach the city in just a little 2.5 hours drive (barring traffic jams). Aside from renting a car, there are a number of shuttle minibus services at various points across Jakarta and at the Soekarno Hatta International Airport in Tangerang that will take you directly to Bandung in air-conditioned comfort.
For your accommodation in Bandung, ranging from Airbnb to luxurious hotels, do check with Online Travel Agents.