Splendor of Surabaya City
This city used to be the trading hub for the illustrious inland empires of Java. Situated on the mouth of the Brantas River, today Surabaya is a modern industrial city, considered the economic and trading center of Eastern Java as well as home to the nation's navy.
As the capital of East Java, Surabaya is also the second most populated city in Indonesia. The extended metropolitan area of this city is named Gerbangkertosusila, which stands for Gresik-Bangkalan-Mojokerto-Surabaya-Sidoarjo-Lamongan.
There are many version regarding the history of the name Surabaya, but the local government and historian agreed to conclude that it comes from the phrase "sura ing bhaya", meaning "the courage to face dangers".
When strolling around the city, you can also find the Sura and Baya monument, depicted from a folklore version about the fight between a shark and a crocodile. The story is immortalized as an iconic monument of Surabaya.
Surabaya is also known as The City of Heroes due to the epic battle happened in the city during Indonesia's independence revolution.
For visitors, highlights of the city include its submarine museum locally known as Monkasel, the immaculately presented Sampoerna museum, the unique Cheng Hoo Mosque, the majestic Sanggar Agung temple or a visit to the island of Madura via the Suramadu Bridge.
Monkasel is a museum literally established inside a decommissioned Russian made a submarine. It served the Indonesian navy from 1962-1990. You can tour inside and experience a slice of history. At the Sampoerna museum, visitors can learn about the long line of the tobacco industry and enjoy the visuals. There is also a unique city tour bus that can take you to the cities nearby landmarks.
The Muhammad Cheng Hoo Mosque was built in honor of the Chinese Admiral Cheng Hoo, who spread Islamic believes while he trades and voyage in eastern Java around the 15th century. Sanggar Agung, also known as Hong San Tang is a temple beautifully located overlooking the Kenjeran beach. The temple featured stunning ocean gate with an impressive statue of Guan Yin guarded by a pair of heavenly dragons, a sight that you will have to see for yourself!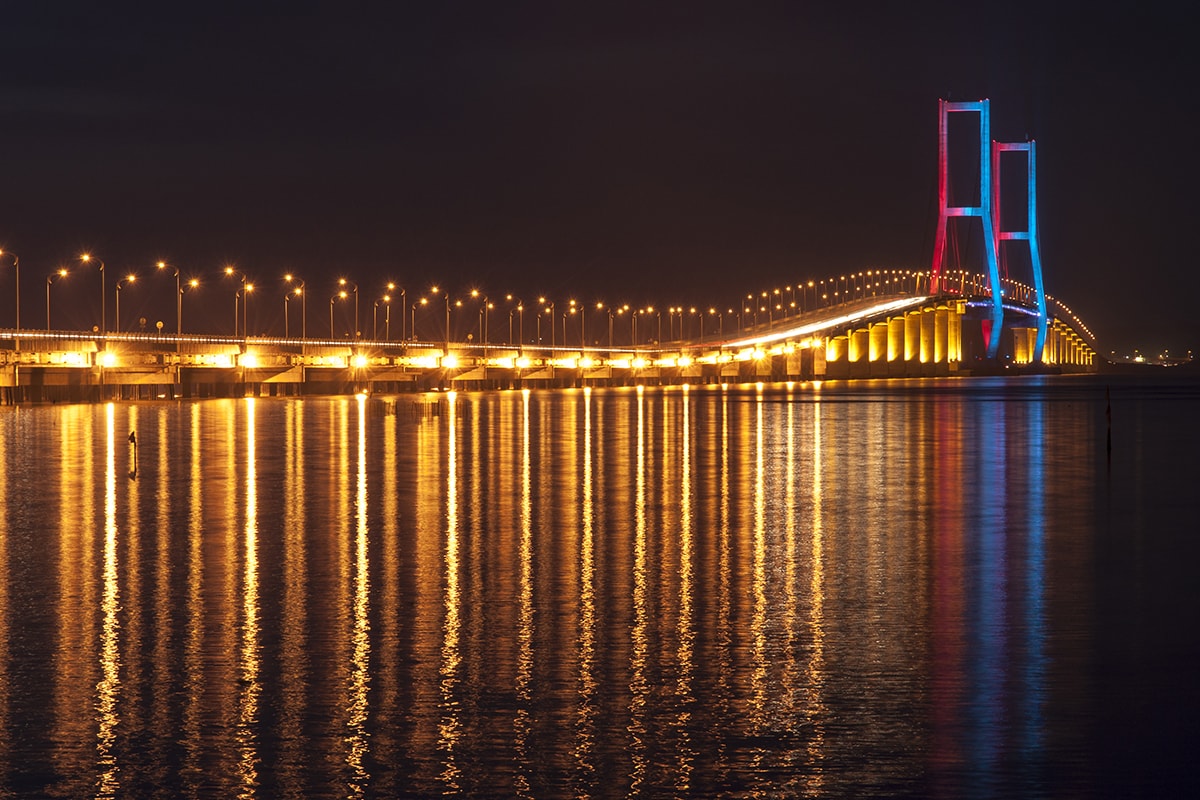 Suramadu bridge is the longest cable-stayed bridge in Indonesia, spanning to 5,4 km crossing the Madura Strait. The bridge will take you to Bangkalan, the heart of Madura Island, where you can splurge on the natural panorama and delicious Maduranese cuisines. Surabaya is also an ideal base to explore the other attractions of East Java including Mt Bromo, the cool mountain retreats of Malang and the natural beauty of Ijen Plateau.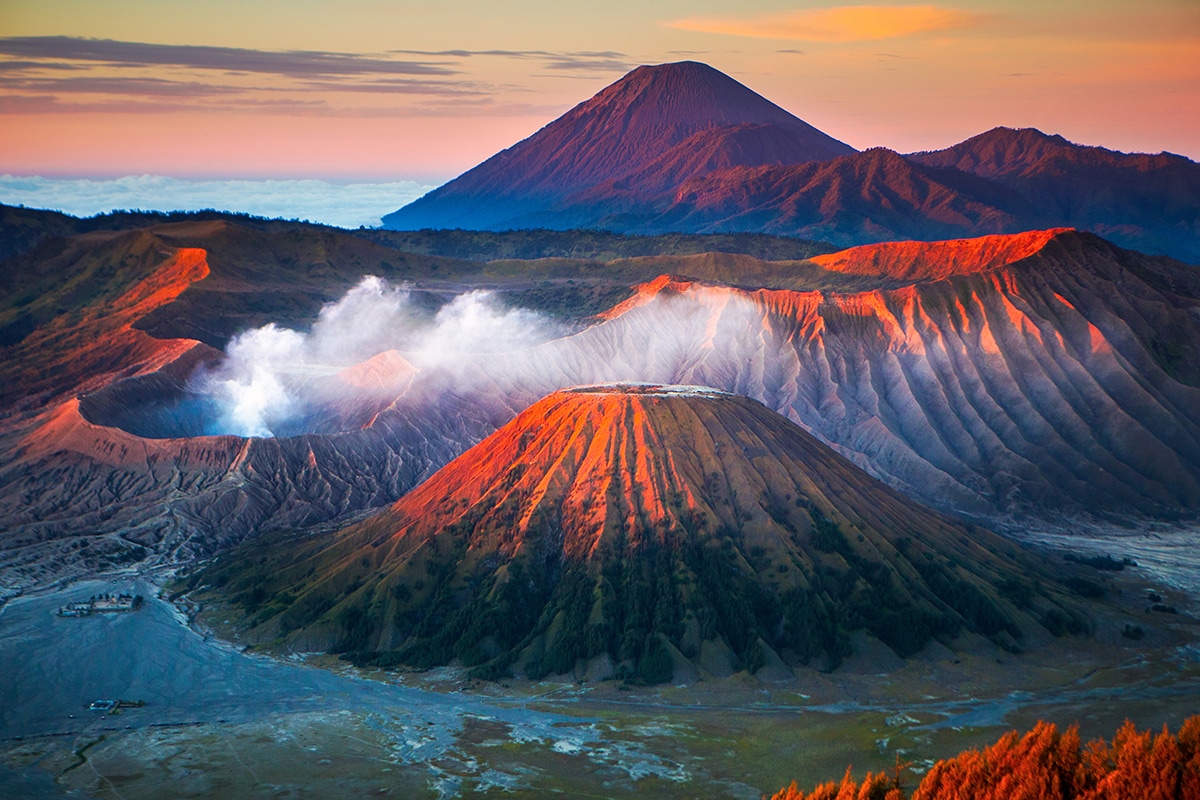 Explore the culinary adventure of fine dining choices to vivid night stalls offering unique local snacks. From fresh fruit salad known as Rujak, the savory black soup with diced meat called Rawon and the fried tofu dish named Tahu Tek.
To find out about the real city buzz and seek for more signature local delicacies and various goods, head to the market! Pasar Atom or Pasar Atum is a legendary marketplace opened since 1972 in northern Surabaya that merged a modern market with a shopping mall.
Most famous food souvenir from Surabaya would be the layered cake brand of Spikoe Resep Kuno, Almond Crispy chips, Bu Rudy's Chilly Sauce and the latest hits of Surabaya Snowcake – mixed of pastry and sponge cake.
Speaking of cake, you can also splurge to enjoy an ambiance of high tea moments in Hotel Majapahit. A beautiful colonial style hotel, formerly known as the Oranje Hotel built-in 1910.
The hotel features a lush garden, an 806-meter square presidential suite, several cafes and restaurants, all adorned with classic details.
To cool off from the city's heat, come by to Zangrandi. Another legendary icons of Surabaya, this ice cream parlor was established in 1930 by an Italian named Roberto Zangrandi. With its original recipe, the crowd's favorite menus are Tutti Fruti, Banana Split, and Soda ice cream.
All of this sweetness is perfect to soothe your day and keep you excited to explore more of Surabaya!
Get There
By Air
Surabaya is served by domestic and international air routes. Many domestic routes use Surabaya airport as a transit point.
By Sea
Boats operate from Tanjung Perak Harbour. Pelni operates connections to Sulawesi and Kalimantan. You can enjoy the panoramic view of the harbor from Surabaya North Quay, a new waterfront attraction for travelers coming in or departing from the city.
Overland
Buses operate between Surabaya and Malang, Probolinggo, Banyuwangi, Solo, and Yogyakarta. Fast trains travel between Jakarta and Surabaya via Semarang and Yogyakarta. From Surabaya, most trains go to Jakarta and depart from Pasar Turi train station multiple times a day.
Get Around
Car rentals or taxis are available if you need to circle around the city with ease. Ask for a good guide that knows the highlight of this vibrant metropolitan. There is also a motorcycle called ojek and public transportation in the form of minibusses.
Try riding the Becak, a kind of rickshaw that maneuver easily among the busy street of Surabaya. Since Becak driver usually lacking English skills, you might need local assistance to help you with price bargain and point of destinations.