Find Serenity in Ubud, Bali
Have you ever seen the soothing image of rice field terraces in Bali? If you have, then you can also come to see them yourself in Ubud. The lush panorama of Ubud is located in the central part of Bali Island. The name Ubud comes from the Balinese word Ubad that means medicine, inspired by the abundance of medicinal plants and herbs in this region.
If you're looking for peace and quiet, then Ubud is the place to be.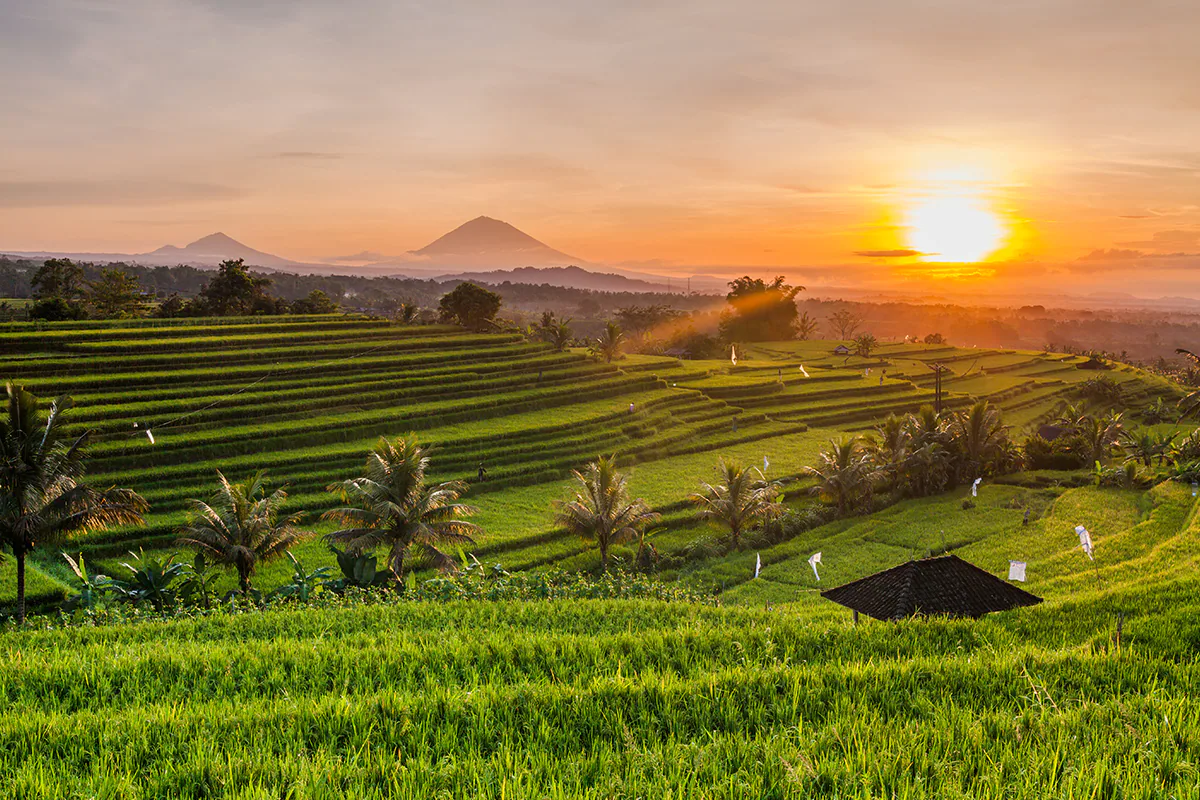 Steeped in culture and enhanced by magnificent vistas, Ubud offers a respite from the humdrum of your busy life. In the past, Ubud was just a small village, but now it has grown into a thriving yet laid-back cosmopolitan community.
Ubud pampers visitors in body and soul. Fine dining restaurants and spas here will delight and relax the senses. A walk through the lush paddy fields, watching colorful processions of women gracefully balancing piles of fruit offerings on their way to the temple, are lasting impressions and simply breathtaking.
So, if you are a first-timer to visit Ubud, where should you go first?
To best experience the nature of Ubud, you might want to choose the accommodation that is located off the heart of Ubud, somewhere between the greeneries and sounds of nature.
But if you want to stay close to the action, numerous choices of accommodation are also available in Ubud city center.
When you have settled in, let the adventure begin in the morning!
Start early and gather your energy with a refreshing yoga and a good healthy breakfast. Ubud offers many choices for both, a great start of the day, where you can feel fit for the whole holiday.
When the sun is still young, explore the magical Tegalalang rice fields. You can also find more rice fields in Ubud area that is also as scenic and worth to experience.
Afterward, make way to the iconic Ubud Monkey Forest. Meet some 700 long-tailed Macaques in their verdant home. The forest also has about 115 species of trees growing around its 27 acres land.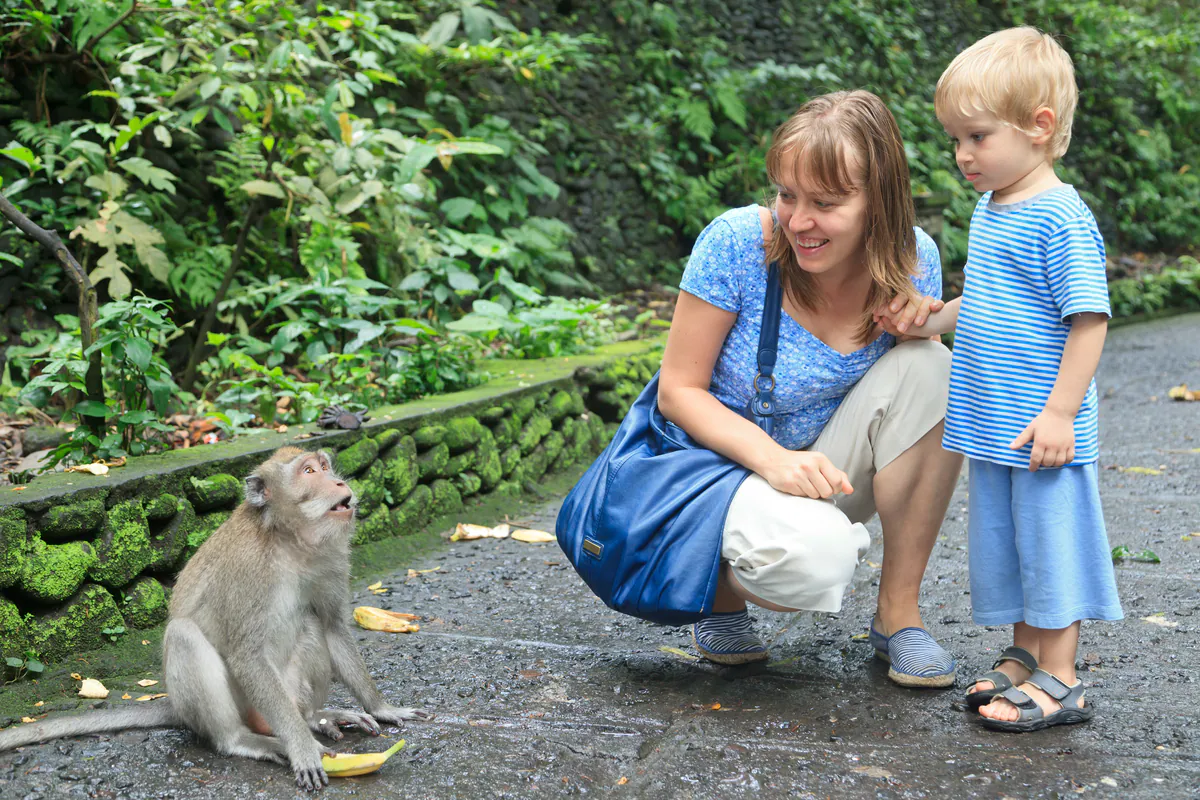 Pura Dalem Agung Padangtegal and a "Holy Spring" bathing temple can be found inside the Ubud Monkey Forest area. Here, you must always also be sure to secure your belongings from the monkey's reach.
Next up, finding a great lunch stop to refuel. There are a plethora of choices for where to go. You can taste local Balinese delicacies at Bebek Tepi Sawah, Babi Guling Ibu Oka, Bebek Bengil and Laka Leke.
For more variety with Asian and western cuisines, you can try dining at Locavore, Hujan Locale, Alchemy, Kampung Café, Bridges and Naughty Nuri's.
Feeling sleepy after a good full course meal? You can find some refreshing ambiance at Kanto Lampo Waterfall. Located in Beng village, in Gianyar regency, this marvelous cascading water is the perfect remedy for a sunny day.
Towards the afternoon, you might want to sip a warm cup of coffee before you embark on another journey. Discover the aromatic scent of coffee at Seniman Coffee Studio, Anomali Coffee, Monsieur Spoon Ubud, Monkey Cave Espresso and Watercress Café.
If the weather is cooler and nice enough, you can head to Campuhan and spend a walk in the afternoon amongst the luxuriant Ubud. You can stop by at Sari Organik for a light bite on the way to finish your trekking.
For extraordinary fine dining agenda, you can certainly try the luxury of riverside dinner at Swept Away at The Samaya, Kubu at Mandapa and the exquisite Restaurant at Hanging Gardens of Ubud.
You can end the wholesome day with total relaxation in Ubud's soothing spa services. Five Elements, Maya Ubud, Amandari and Como Shambala will treat you well and pamper you amongst Ubud's pasture surroundings.
The next day, you can try a more adventurous start by joining the white water rafting in Ayung River! An exciting adrenaline rush, with scenic routes along the way.
For an Instagramable holiday picture, you can try the exhilarating Ubud swing and fly up in the air with Ubud's green landscape as background.
Cool off and slow down to enjoy some artistic works in Ubud's art galleries and museums. Museum Puri Lukisan, ARMA, Museum Rudana, Neka Art Museum and the eccentric Blanco Renaissance Museum are the checklists to explore.
Don't forget to stop by Ubud Market and browse for iconic handicrafts made in Bali for a precious souvenir.
Get Around
Since Ubud is relatively small, you can explore the town on foot or hire a bicycle or motorbike. Bear in mind that as this is hilly terrain, so do ask locals first which places are easier explored on foot, by bicycle, motorbike or by car.
Ubud is a perfect place for you to experience spiritual awakening and enlightenment. Visit Ubud to experience its excitement, peace, and tranquility!

Get There
Various modes of transport are available from all over Bali. If you decide to visit Ubud directly from the airport, you can hire prepaid cabs but the fee may be quite hefty. You can also take regular taxis or rental cars. Public transportation such as buses can also take you to Ubud.