Purwakarta
Strategically situated between the capital city of Jakarta and West Java's capital, Bandung , Purwakarta Regency was once better known as an industrial area. However, over time Purwakarta has grown into an attractive destination in its own right that showcases its authentic identity as the cultural window to the Sunda ethnic group's way of life of the people of West Java.
According to Old Sunda Language of West Java, the name Purwakarta is derived from the word Purwa meaning 'the beginning/the origin' and 'Karta' meaning 'lively/active', hence Purwakarta loosely means 'a lively place since ancient times'. Purwakarta's existence is inseparable from the nation's history in the fight against the colonial forces of theVereenigde Oostindische Compagnie (VOC) or the Dutch East India Company who occupied the region around the 17th century. The regency then played the role as the main logistics base for the Javanese Mataram Kingdom during their attack on the VOC's controlled Batavia (present day Old Jakarta). In turn, Purwakarta's rich agricultural resources were later also utilized by the victorious Dutch Colonial Forces.
Remnants of the Dutch colonial era still decorate many parts of Purwakarta. These can be seen especially found in downtown Purwakarta where heritage sites are transformed into some of the town's most impressive landmarks.
The most iconic of these is the Sri Baduga Fountain Park at Situ Buleud or the 'Round Lake' situated right in the heart of town, which is in fact an artificial lake that was originally built during Dutch Colonial times and meant as a pool for a herd of the now near-extinct rhinoceros population.
This small lake has now been transformed into the largest Fountain Park in Southeast, called the Sri Baduga Fountain Park, which boasts a 3 hectares sprawling park with at its center musical and dancing fountains using state-of-the-art technology. Here, in its center among the hundreds of dancing fountains sits majestically the statue of Prabu Kian Santang, son of Prabu Siliwangi, also known as Sri Baduga, the most famous Maharaja who ruled ancient Pajajaran. Surrounding the statue, no less than 2,000 water spouts shoot up showers that dance following synchronized music. And enhanced by streams of light in rainbow colors and laser play, they form images of a man and a woman dancing special Sundanese traditional dances.
Located not too far from the Sri Baduga Fountain Park, there is another historical building believed to have been builtin the 19th century called Gedung Kembar or literally meaning 'The Twin Building'. Today, one of the buildings is used as a unique Museum named Bale Panyawangan Diorama Museum. Loosely translated, Bale Panyawangan means 'A Place to Gaze'. As the name suggests, here is the perfect place to observe not only into the history of Purwakarta but also of the great Sunda kingdom of Pajajaran, and its culture. Uniquely, the museum does not only feature conventional collections but it is also completed with various digital displays. In one of these, visitors can take a virtual tour of Purwakarta on an actual antique bicycle.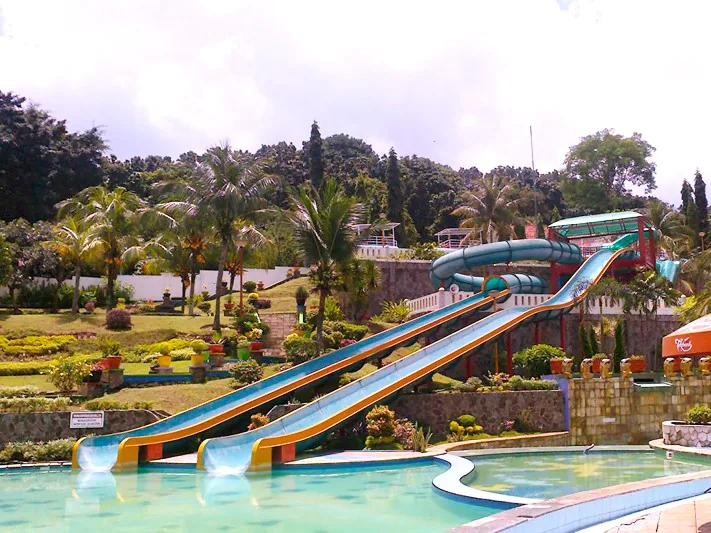 Image by
Arya Nugraha
For those who wish to enjoy watersports such as canoeing, water skiing, wind surfing, and many others, Purwakarta has the Grama Tirta Jatiluhur or the Jatiluhur Waterpark which is built along the Jatiluhur Dam. Here, not only you can have various activities, you can also enjoy the spectacular scenery of Jatiluhur Dam and Lake. For fishing enthusiasts, there is also the Cirata Dam that offers the thrilling experience of white water fishing.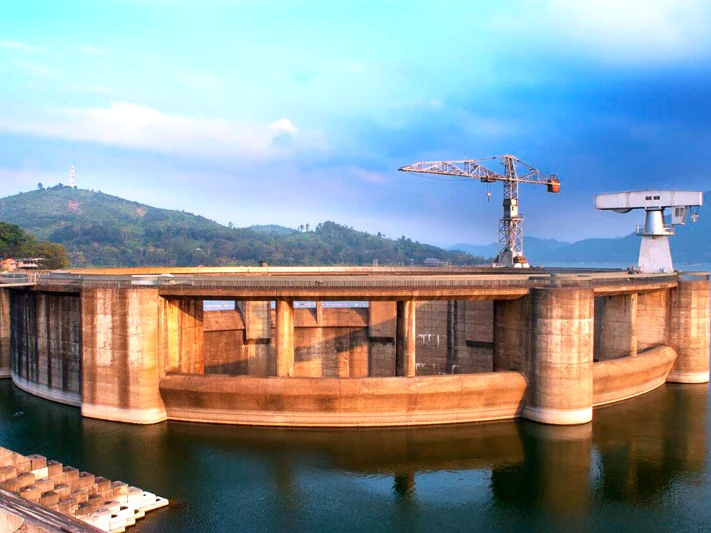 For those who search truly refreshing nature, head to Wanayasa which is only about 23Km away from downtown Purwakarta. Here is the beautiful Wanayasa Lake among lush hills surrounding Mount Burangrang. There is also the Cipurut Waterfall and the Cidomas River which make perfect getaways from the hustle and bustle of daily city life.
If you're up for a little bit of adventure, go trek and hike to some of the challenging trails up Mount Lembu, Mount Parang, Mount Cupu, and Mount Bangkok.
While you are in Purwakarta, don't forget to taste the Purwakarta specialty of Sate Maranggi, a signature dish of the regency that has become a favorite food of many Indonesians. Made of Lamb or beef, what makes Sate Maranggi different from other sate/satay or meat skewers is that before they are barbequed, the meat for sate maranggi is marinated in various herbs and spices that give it its distinct taste. Sate Maranggi is normally served with fresh cut tomato slices, shallots and a (very hot) spicy sauce.
Check out more Information on Purwakarta at: http://purwakarta-tourism.com/