Semarang: The Venice of Java
The heart of Central Java, Semarang, with its multicultural history would be the best city for those who love exploring cities with diverse cultural heritage. It's also one of the largest metropolitan cities in Indonesia, and provides so many compelling itineraries for you to visit.
Semarang is traversed by many rivers in the middle of the city just like Venice in Italy, thus Netherland ever called this city as Venetië van Java or The Venice of Java. This city is also known as Kota Lumpia or Lumpia City. Lumpia is one of the most delicious snacks you could ever find in Indonesia. It's a snack born by acculturation of two cultures, Javanese and Chinese, and a typical food from Semarang.
As one of the huge cities in Indonesia, Semarang is never deserted by tourists all over the world. Let's learn more about the reasons why.
History of Semarang
In the 15th century, Chinese emperor's emissary Zheng He, otherwise known as Admiral Cheng Ho, set foot on Java. From the 17th century onwards, Semarang became an entrepot for spices, also a busy harbor for trade and passengers when travel was made predominantly by sea. The city of Semarang, capital of the province of Central Java, sits precisely in the center of the northern seaboard of the fertile and densely populated island of Java.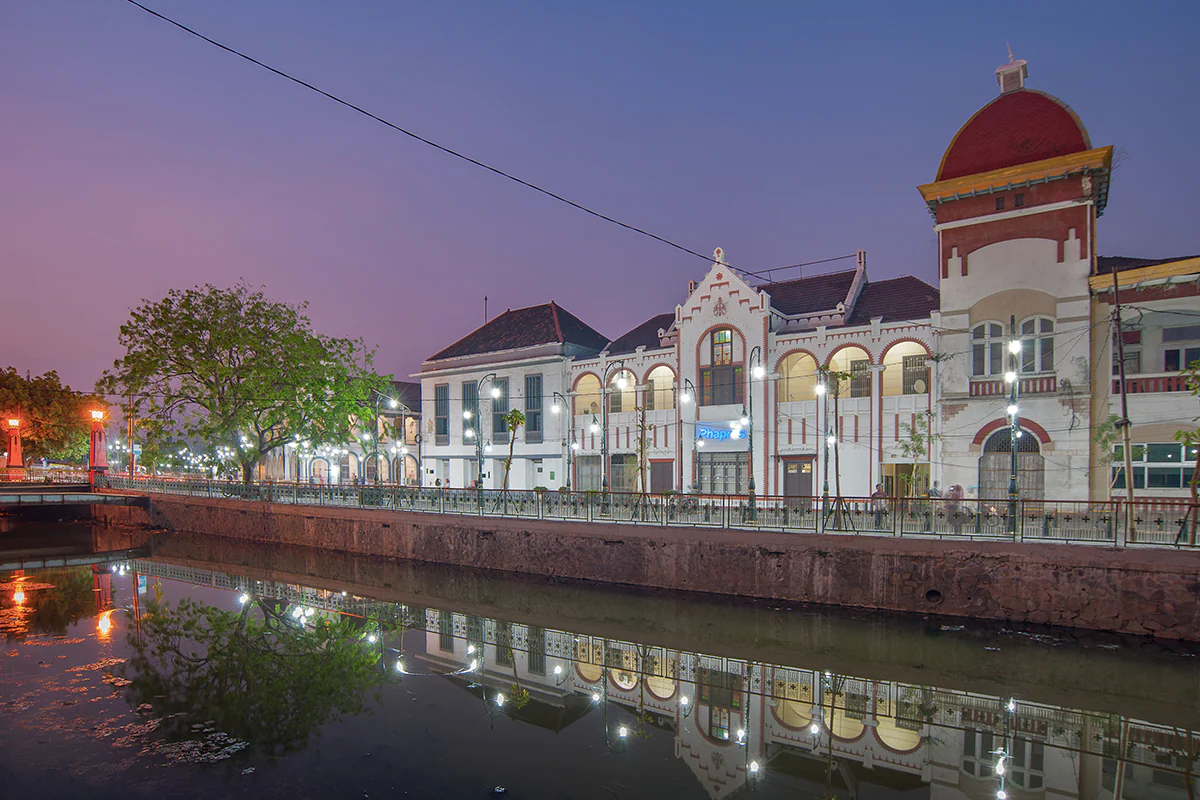 This strategic position of Semarang has made the city a melting pot of Chinese, Indian Arab, and European cultures. Wander around the Chinese quarters and the Dutch commercial district, you will see the influences of different cultures everywhere. In the older part of the city near the harbor named Kota Lama, or the Oudstadt, stroll around to explore the historic old buildings in what was once the European commercial district.
What to Do
With so many countries sailing to Semarang during those old times, no wonder we can feel the charming old-time heritage atmosphere around the city. These buildings are also influenced by the European style of architecture and also old Chinese architecture style.
Here is a list you must stop by when you visit Semarang;
1.   The Iconic Blenduk Church
The most renowned landmark to see here is the Koepelkerk, a Pantheon style church, locally known as Gereja Blenduk, a copper-domed Dutch church dating from 1753.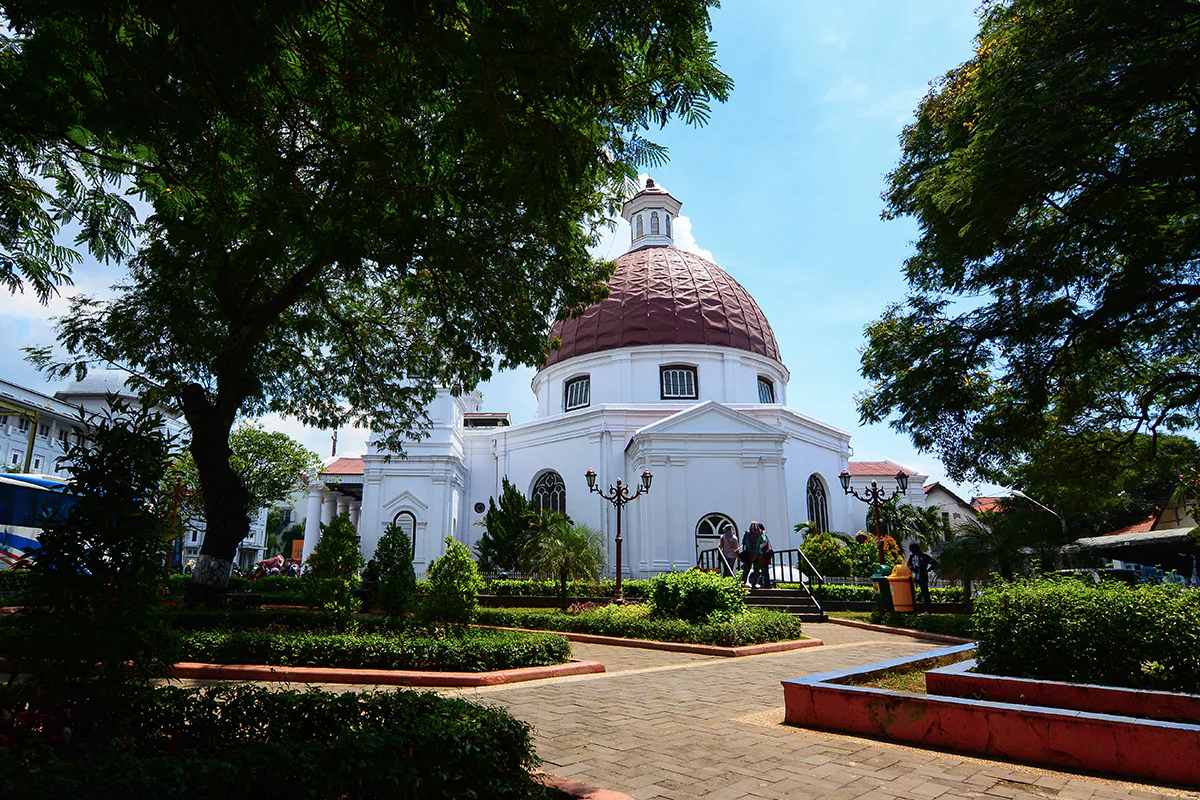 2.   Brown Canyon
Another tourist gem you should consider when you visit Semarang is Brown Canyon, located in Rowosari. This landmark showcases its majestic sandy brown cliffs with greenery spread throughout the area. The Brown Canyon's panoramic scenery has brought attention among professional and amateur photographers as it offers similar nuance as the Grand Canyon in America.
Though originally created for mining, this site has naturally eroded throughout the years, creating a unique structure. Those who are interested to visit this site should consider exploring during the weekends, as it will be filled with workers during workdays.
3.   The historical Lawang Sewu
Lawang sewu is another historical building in Semarang. Lawang sewu is originally from Javanese language which means building with thousand doors. During the colonial era, this building was used as the headquarters of the Dutch East Indies railway company. Many people believe that this building is haunted and often visited by ghost hunters.
4.   Sam Poo Kong Temple Complex
Sam poo kong is a historical destination built to reminisce Admiral Cheng Ho, a Muslim explorer originating from china. The temple was built in the 15th century and marked as the oldest Chinese temple in Simongan, Semarang.
The best time to visit this temple is on the sixth month in the lunar calendar. During that time a festival will be held to commemorate the arrival of admiral Cheng Ho in Semarang. One of the most awaited events is when the people parading the statue of Cheng Ho from Tay Kak Sie temple to Sam Poo Kong. Also, during the auspicious days in the lunar calendar or historical omens in Cheng Ho's history, there will be festivals and celebrations held in front of the yard of the temple.
5.   Semawis Night Market
If you visit Semarang during the weekend, then a visit to Semawis night market is a must. This area of night market is also known as the Chinatown of Semarang. Located in Gang Warung, Semarang, this night market sells a variety of mouth watering Indonesian and Chinese influenced foods and drinks.
The area which is also known by the locals as Waroeng Semawis was established in 2004 to memorialise the 600 years of Cheng Ho's first expedition in Semarang. You can simply say this night market is a food street heaven since it is lined with street hawkers of satays, fried rice, soup, noodles, desserts and you could possibly find Semarang specialities such as Pisang Plenet and Lumpia.
6.   Semarang Iconic's snacks
It will not be complete when you visit any place without trying their local foods and drinks. Semarang is one of the cities where you can fill your cravings for the good foods which will make you want to dig in more and more.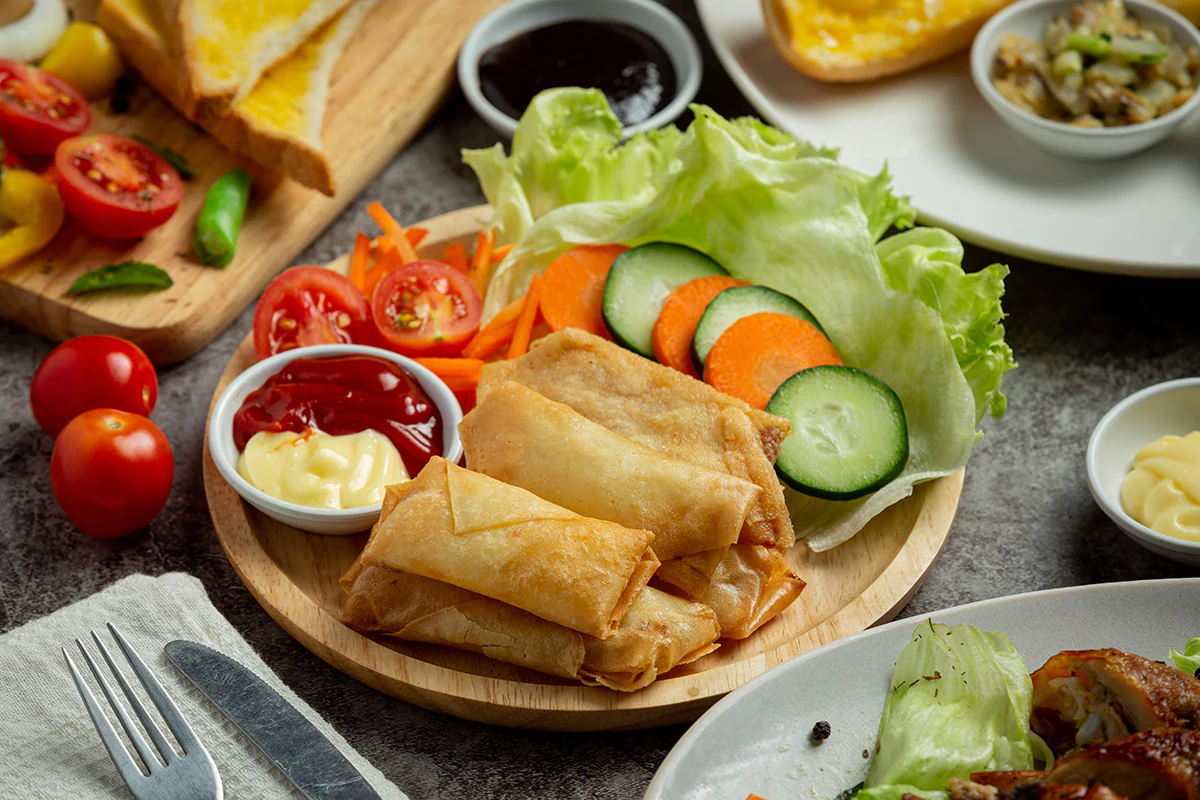 For a complete culinary experience, the Pasar Semawis Culinary Center in Gang Warung is truly a must. Most of the food here is different to what you'll find elsewhere. Here a number of stalls sell mouthwatering dishes with pork in them – a rarity anywhere on Java.
Get Around
In Semarang, taxi is everywhere. Small buses are visible going by the city streets. They go to different parts of the city. You might want to ask the locals before taking one of those city buses.
Becak or rickshaw (trishaw) is a pleasant choice to feel the breeze in Semarang while you enjoy the city scenes. When visiting Kota Lama, take one of those becaks, and enjoy the relaxing ride.
Get There
Semarang is accessible by air and land. Its strategic location does not make it so difficult to get there. Many domestic airlines fly to Semarang from Jakarta and Surabaya. From Soekarno-Hatta airport in Jakarta, approximately 1 hour to Semarang airport and from Surabaya to Semarang the estimated flight time is 1 hour 10 minutes.
From Jakarta, Bandung, Surabaya, and Malang, trains are available as well as buses and rented cars. Going to Yogyakarta and Solo, buses are available. If you choose to travel by buses from Jakarta to Semarang will be around 6-12 hours, it depends on the bus operator itself. Yet, if you travel from Yogyakarta it will be around 3-4 hours to arrive in Semarang.
The train station in Semarang is called Stasiun Tawang, It is located right at the northern side of the Kota Lama. Bus station is in Terboyo, which serves intercity buses. If you are travelling from Jakarta by train to Semarang it will take around 5 hours to arrive and from Yogyakarta to Semarang the duration of the train trip is approximately 3 hours 33 minutes.
Cruises depart or visit Semarang from the port of Tanjung Emas. Taking a cruise is a great way to take in the attractions of Central Java at a relaxed pace. International cruise liners also stop in Semarang, using it as a base to visit various attractions in the region including Borobudur and Prambanan.
There you go, a complete guide for your next holiday in Semarang. You can learn more attractions that you won't miss in Semarang here.